China Market Research
Desk research on the targeted industry, consumer segments, and distribution or sales channels
Competitor study and analysis report
A brand social voice checking report
Go-To-China Strategy
Brand value definition and communication guidelines
Product profile and UPS definition
Target business clients and/or consumer segments and potential client acquisition channels
Operation plan (trade fair, roadshow, buyer meetings, etc)
Social media and digital marketing plan
China Custom, local market regulation, and intellectual property protection check
Budget planning
---
Marketing & Social Media Management
Content localization
Website, catalogs, brochures, leaflets, product sheets,…
Brand Kit Production
Localized artworks and banners, catalogs, brochures, product sheets, and digital product kits for E-commerce,…
Chinese Website
.cn server hosting, content management, SEO, paid Ads,…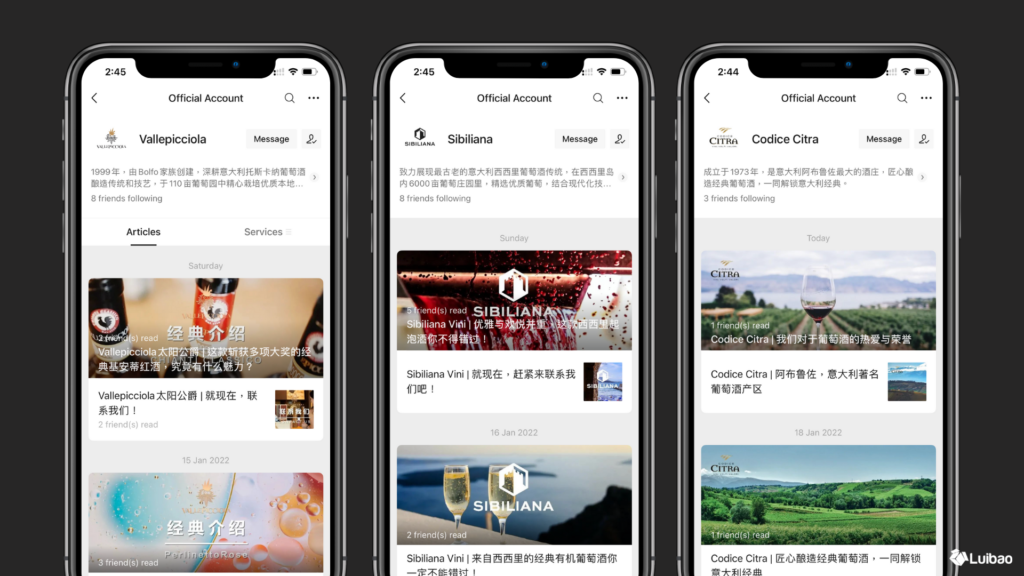 Social Media Management
Chinese social media management: WeChat, Xiaohongshu (Little Red Book)
Account setup
Content editorial plan & Content creation and management
Instant inquiry management & Auto-reply messages
Reporting
Paid Ads & Campaigns
English social media management: Instagram, Facebook, LinkedIn
Content editorial plan & Content creation and management
Instant inquiry management
Reporting
Paid Ads & Campaigns
digital and/or Printed PR service
A network of Food & Wine industrial media partners, with a focus on digital media in China. We help brands achieve designed media coverage and public exposure, via different formats of collaboration (industrial talk/interview, editorial, PR release, etc) with selected media partners.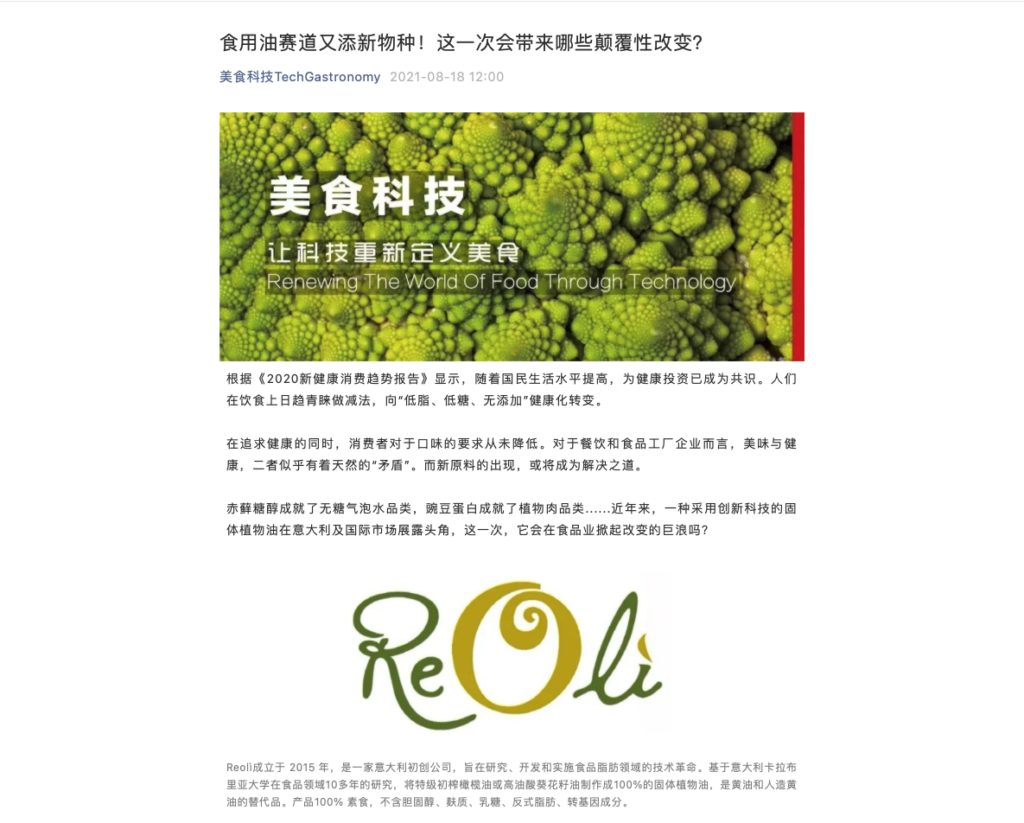 ---
Sales
We are your export manager to represent your brand and products in Chinese or other Chinese or English-speaking markets. Our service activities include but are not limited to buyer meetings, deal negotiations, logistic support, trade fair exhibition, workshop, and roadshow support.
---
Special Project
We build up special projects with our Chinese team and local partners according to the clients' needs and budgets. Especially in F&B sector, we work closely with reputed industrial leaders from consumer goods, PR and media, and digital marketing industries in China. We work with top-level chefs, celebrity chef and gourmet influencers, luxury hotels and fine dining restaurants, associations and so on.

Menty Yu (Senior Partner, Luibao)
Brand collaboration on Xiaohongshu (Secretum Magazine for Mediterranean Lifestyle)
We started a Mediterranean lifestyle-focused media account on Xiaohongshu and it went viral during the pandemic.
We have currently,
6867 followers
69,000+ post likes and savings
We are offering potential brand collaboration through Secretum Magazine to promote the Mediterranean lifestyle,
in the way of,
Food & Wine,
Tourism and Hospitality,
Skincare and Beauty,
Fashion and Handcraft,
Architecture, and Design.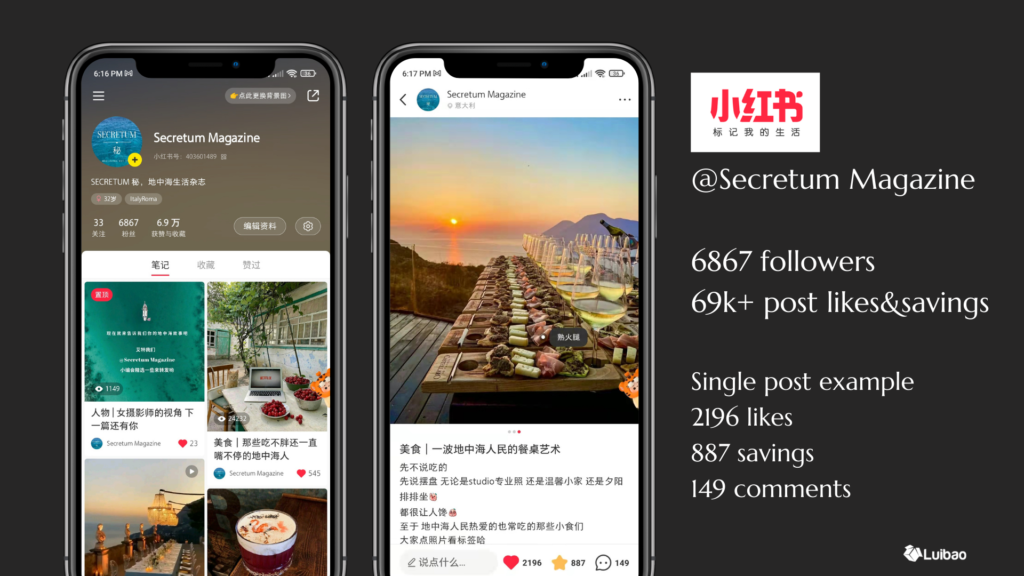 We are very selective with partnerships and like to ensure that every project completely aligns with Secretum Magazine's brand, style, and our followers' expectations. If you think this could be a nice fit, we'd love to chat.
"Don't know what is Xiaohongshu? Check out our blog and keep updated about what's trending in China and how to reach Chinese consumers"