You should land on Xiaohongshu (Little Red Book or just call it "RED") if your business meets two simple criteria:
Ask yourself, are you ready for China market, and its very demanding yet irresistible business environment?
Check your yearly marketing budget plan, do you allocate some budget on Instagram?
Ok, the first question is easy, but the second question sounds just non-sense!
You should know Xiaohongshu's unofficial nickname as China's Instagram.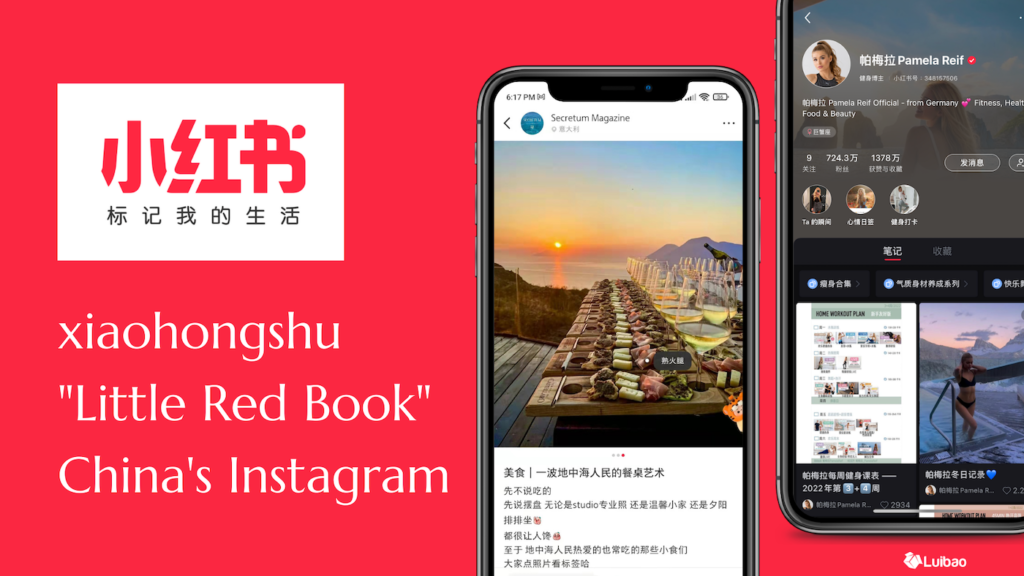 What is Xiaohongshu?
Founded in 2013 as a social media start-up in Shanghai city, Xiaohongshu has become a lifestyle content-dominated social media platform in China. It ranks surely on the Top 10 Chinese social media platform list. However, like many other tech giants in China, Xiaohongshu aims for something bigger.
From Xiaohongshu's foundation, user-generated content (UGC) always plays a fundamental role. The authentic review-style content by every single user formed up a multi-million community. Users are drawn to the App with their personal interests and hobbies, because they are fed with the "personalized" content, of course, with the help of an algorithm. Meanwhile, the content consumers are also content generators. They are proud of sharing the best purchase and experience with others on their account.
This makes Xiaohongshu one of the most valuable platforms for commercial brands.
If you don't know "Growing Grass", you must know the term, "Content Seeding". "Growing Grass" is an Internet slang in Chinese. It means when a Chinese Internet user is exposed to the soft content marketing of a brand or a product multiple times, he/she starts to "realize" the urgent need to own that brand or product in person. And, yes, we are talking about owning by "shopping".
Content seeding on Xiaohongshu is very similar to what is happening on Instagram.
Open your Instagram app, do you find a lot of influencers generated content in rich formats and high quality. Is it labeled as a brand collaboration or sponsor post?
Let's turn around. Did your Instagram "friend" just post a down-to-earth selfie, and tagged another account that is a brand, a restaurant, or a shop?
Congratulation! You were just exposed to today's content seeding, twice!
Right now, many "You" are scrolling their Xiaohongshu feeds in China. The underlying logic of what Xiaohongshu works for a brand isn't that different from Instagram's.
Here we've got a few more latest figures announced in September 2021 by Statista.
Xiaohongshu has 300 million registered users until July last year.
Xiaohongshu has 148 million active monthly users by the reporting time.
90% of Xiaohongshu's users are under 35 years old.
67% of Xiaohongshu's users are female.
Let's see what Xiaohongshu says about itself.
Xiaohongshu's Instagram-like features
We are not diving into the very many details of Xiaohongshu's functions.
But, today, we talk about its Instagram-like features which are important to a commercial brand.
UGC, User-generated content is the most powerful weapon of Xiaohongshu.
You can never limit your imagination of what questions the Chinese Internet users will ask after a simple post. Below, we show a few examples: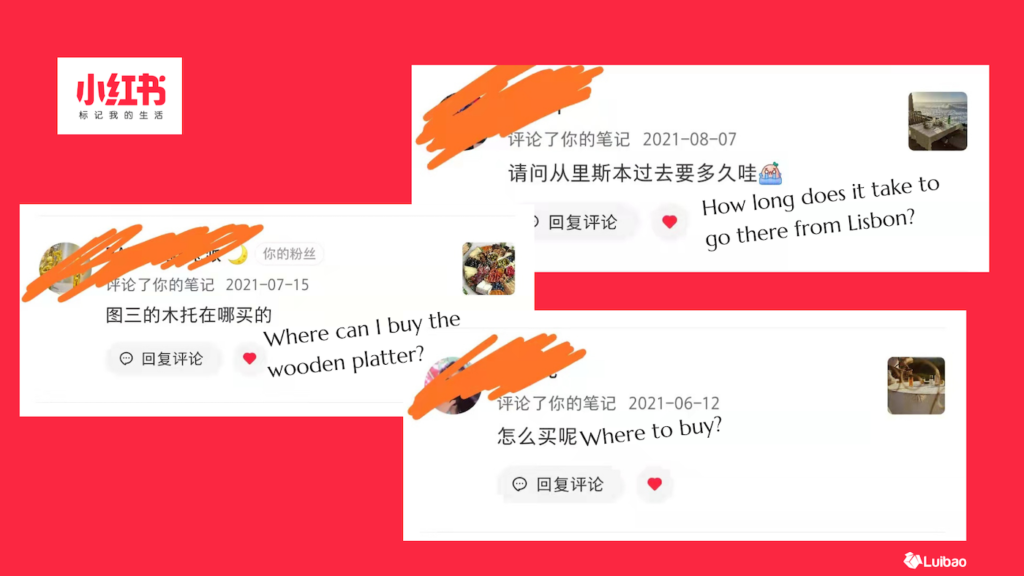 "In the 3rd image, that wooden platter, where can I buy it?" – after a post of the sunset wine tasting from an Italian winery in Sicily

"Please, from Lisbon, how long does it take to go there?" – after a post of a famous sea-front seafood restaurant near Lisbon

"Where to buy it?" – after a post of an independent European skincare brand
In China, the terms, KOL and KOC, are the best description of Xiaohongshu's users. KOL, a key opinion leader, is similar to influencers on Instagram. They are the official brand ambassadors with highly polished content. Most KOLs are full-time content creators who have a clear price package. KOC, a key opinion consumer, is a non-branded influencer. Without a consistent and clear profile, they don't offer influencer marketing services to the brands. They share whatever happens at the moment and shareable according to themselves. Their content might be less polished but more down-to-earth.
Many successful Xiaohongshu campaign is about allocating the right ratio of the expensive but influencing KOLs and budget-friendly yet less influencing KOCs in their portfolio.
A search engine is another feature of Xiaohongshu.
Sometimes, the users open the App for time killing. But, when they also go for Xiaohongshu for a specific piece of information.
This happens a lot to guide-style content, for example, cooking recipes, travel guides, makeup tutorials, handcraft tutorials, and so on.
Often, Chinese users will search a brand or a product's name on Xiaohongshu for peer reviews. Is this brand being talked about by others? What is the comment or post-using experience from other people? Does this brand own an official brand account?
That means, to win a new client, someone is talking about your products on Xiaohongshu, and it is better that there is a clear brand value exhibited.
Going digital and social is not due to the pandemic, but a live-or-die dilemma under the digital revolution
On Xiaohongshu, 90% are generation Z, or you can call them "millennials". They are the first generation growing up with social media. Shopping based on social media content is the most common thing.
As Digital 2021, in China, the E-commerce shoppers in China are getting impressively younger or older. Compared to 75.15% of shoppers from 16 to 24 years old, the number of Chinese shoppers from the same age group is 4.5% more. Meanwhile, 76.8% of Chinese senior shoppers from 55 to 64 years old have moved onto E-commerce platforms already. The number is 3% more than the global one.
Clearly, we cannot overlook the buying power of the young generation. The best place to reach them, and impress the young shoppers, is social media.
What is InstgramXiaohongshu-friendly?
Xiaohongshu is about sharing experiences and showcasing an individual's lifestyle. Does it sound like Instagram again?
From content to brand, everything links to one word, "lifestyle". This is the bloody reason why Xiaohongshu might not work well if your business has nothing to do with lifestyle.
Together with Xiaohongshu's 67% female users, obviously, she-oriented content and brands benefit the most. We have listed some categories here:
Skincare & Beauty
Mom & Baby
Cooking & Foodie
Home décor & design
However, female users often shop for their male partners. After she-economy, he-economy hits the headline in 2021 as well. We have another list for both:
Fashion
Fitness & Health
Travel & City guide
Photography
Pet
Check the two lists above, is your business relevant?
Are you still waiting? Look at them on Xiaohongshu already
"But will Chinese audience love seeing overseas content? What about Chinese language? Do I need to hire new people and prepare all my content with Chinese characters?"

Brand manager/ Business owner
Chinese audience is picky and demanding on the value and quality of the content, not how it is presented.
Yes, it is better to prepare Chinese text for an image-enriched post, or subtitles if your content is video-based.
Good content always stands out no matter what. Look at these successful Xiaohongshu accounts owned by overseas influencers and brands.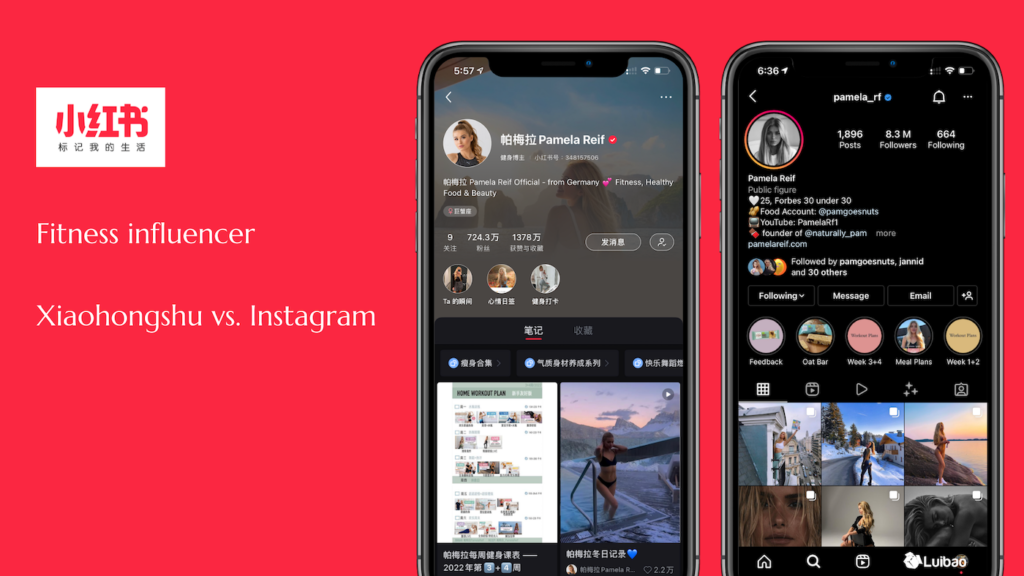 The famous German fitness influencer, Pamela Reif, owns 7 million followers on Xiaohongshu. Her single post can easily win more than 20,000 likes.
Her content? It is simple, friendly, informative, and instructive – just like her Instagram and Youtube accounts.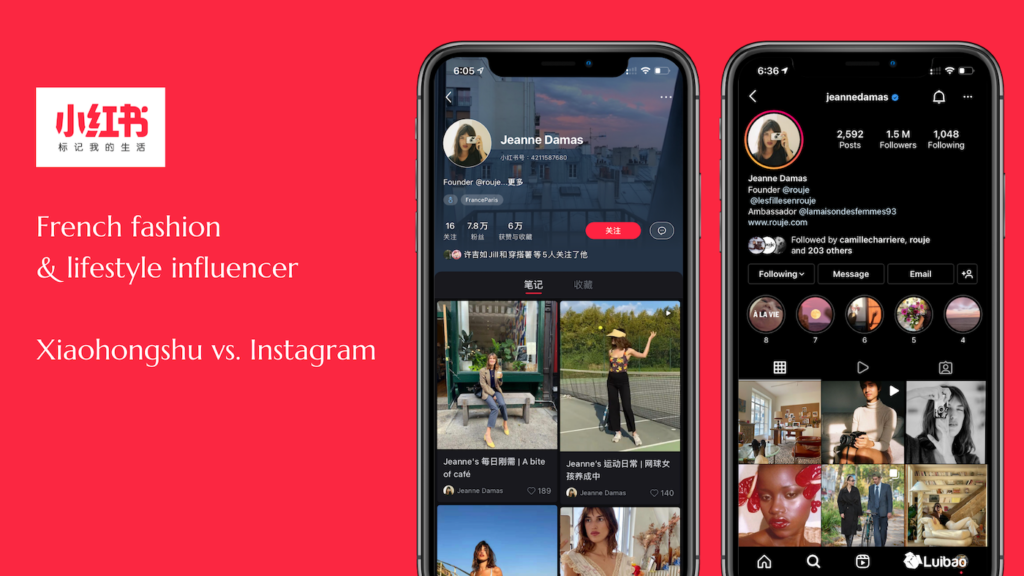 The French fashion influencer and Rouje founder, Jeanne Damas, has 78 thousand followers since April 2021. Her content is the best example of exhibiting a foreign lifestyle to a Chinese audience.
She talked about her daily life from grabbing a coffee in Paris to her winter skiing vacation in France, from her new mom testimonial to personal sharing as a female entrepreneur and leader in her area.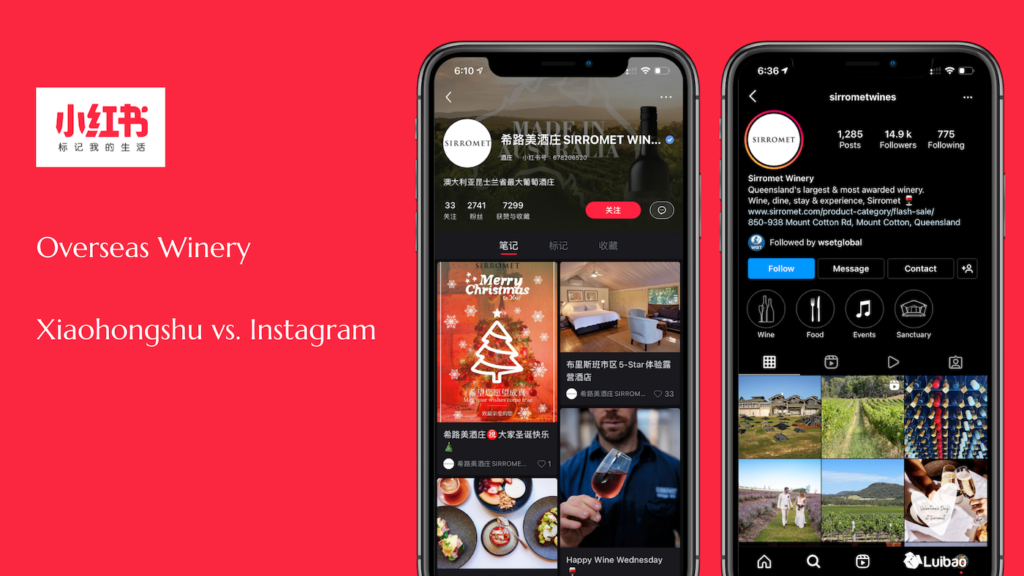 Sirromet Winery in Australia is a brand account on Xiaohongshu with more than 2700 followers when this article is published.
Instead of product-oriented content which is often boring and not the audience is interested in. It shares the winery-tourism, food, and wine culture on its account.
This is what we did on Xiaohongshu
No joking!
We went for a test by running a company account on Xiaohongshu, with curated content about the Mediterranean lifestyle.
Here is what we have: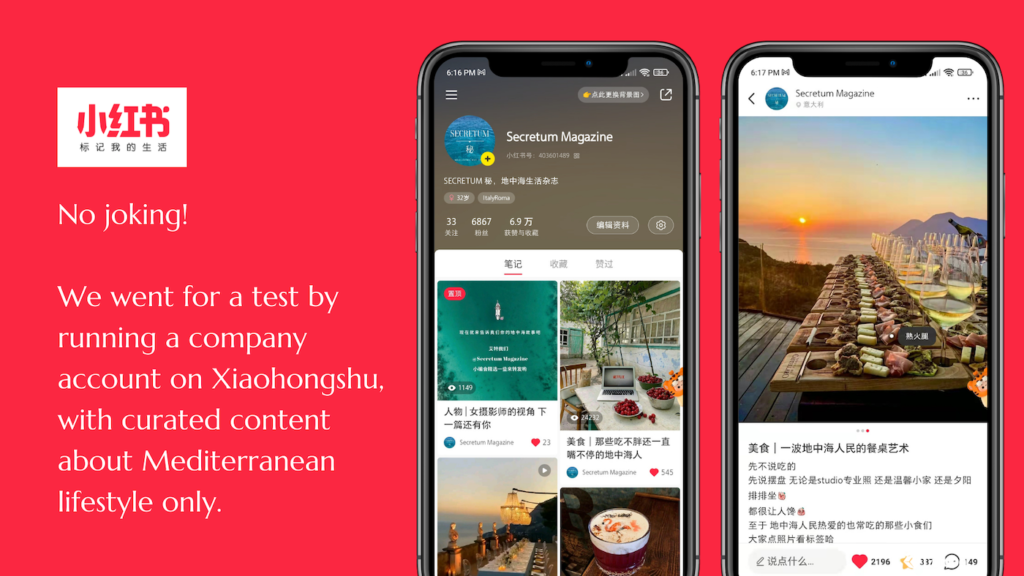 More than 6800 followers, and more than 69000 engagement (likes+saves)
Take one single post as an example, yet not the best performed one:
2196 Likes, 887 Saves, and 149 Comments in total
Shall we self-claim as a Xiaohongshu influencer?
---
To summarise, many brands realize the importance of involving in Chinese social media activities. However, apart from the well-known WeChat, there are many more. Xiaohongshu is one of the many. For many lifestyle businesses and brands, Xiaohongshu is where they should start to explore the possibilities.
---
Reference: