By January of 2020, the number of social media users in China has reached 1.04 billion, which means approximately 27% of the global social media users. Meanwhile, in China, there are 1.61 billion mobile connections, however, the country's population is only 1.44 billion. This leads to a big question for all the business owners and marketers who are planning to enter the China market or already in the market.
What is China social media?
What does it look like in 2020?
Whether we should do it or how to use it for our business?
What Is China Social Media?
Facebook, Instagram, Twitter, Youtube – these top international social media in China are banned. Google left China since 2010 and almost all consumer-level services of Google (Google search, Google map, Gmail, etc) are banned until now. Wikipedia was out from 2019. Off the radar, there is a much bigger scale of blockage in China regarding social media and general Internet websites.
The question is, does China have social media?
The answer is yes, and it has transformed from a "copy-cat" model to somehow, an industry guide. Many companies, brands, and marketers don't dare to look away from that.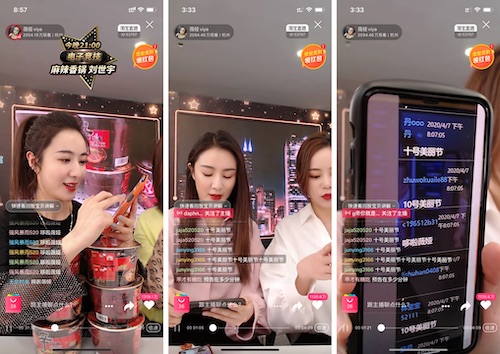 Social Commerce
In short, social media is any digital tool that allows users to quickly create and share content with the public.
In China, it is doing much more!
It is only a part of the huge Chinese digital ecosystem including e-commerce, Internet sites, mobile apps, and many others. By observing the development of the top China online platforms, we see an interesting trend – "Social Commerce".
Social Commerce in China is a trend combining online shopping with social media functions.
China is showing the next level of #ecommerce – #socialcommerce . Says @LuibaoHK
Click To Tweet
Many Chinese social media platforms have integrated built-in E-commerce functions, and many top Chinese E-commerce platforms have launched social functions, such as 1-to-1 or group chatting, content generation and sharing.
Restricted Links
Another trend is restricting the 3rd party links so that one social media platform can create a complete circle from impression to sales.
TikTok just announced that its Zhibo (live stream) function will restrict all product links from the 3rd platforms from 6 September 2020. Tmall (Taobao B2C e-commerce platform), JD (Jingdong), and many other E-commerce giants are "outsiders".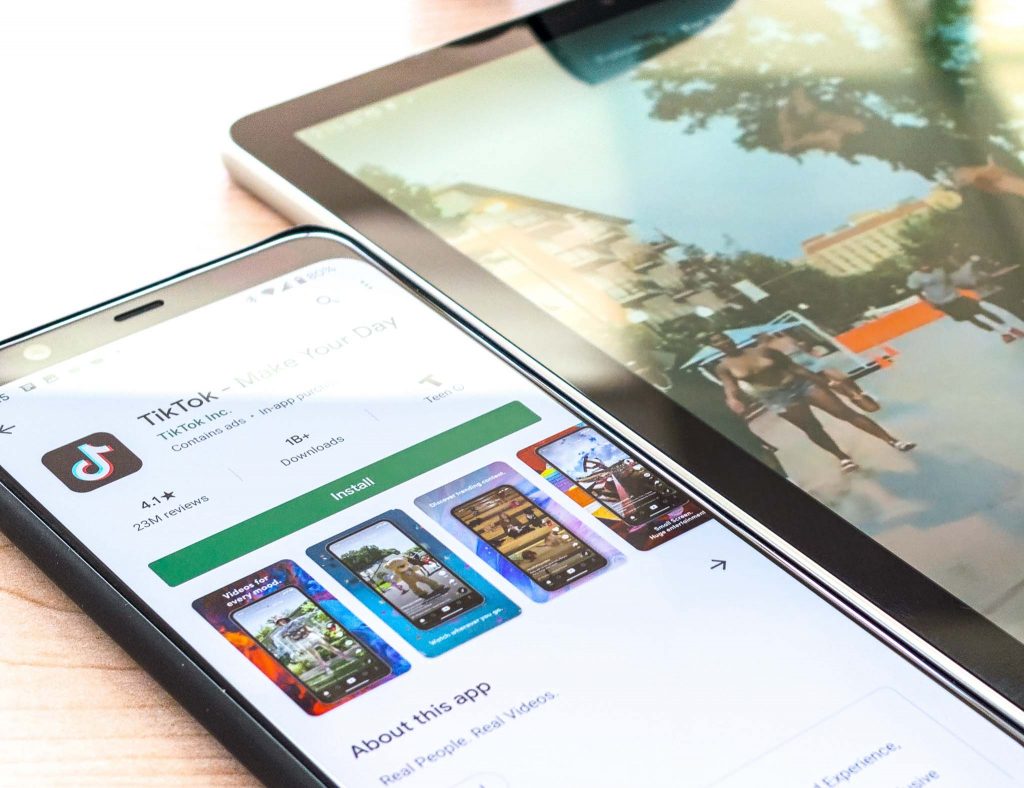 Diversity
Diversity is another leading advantage which offers a vertical way for marketers to reach their targeted consumers and even "the niche".
WeChat and QQ are the two largest platforms for chatting (similar to Whatsapp and Facebook Messager);
Weibo is the top microblogging platform (similar to Twitter);
Weibo and RED (Xiaohongshu) are two common social media platforms for influencer marketing as well.
Youku is the video content sharing platform like Youtube, but recently, TikTok (Douyin) and Kuaishou are taking over the short-video sharing market rapidly. TikTok made an impressive App global download record during 2020's pandemic.
If you are targeting a niche group, for example, "the cultural youth", Douban can be a good option. It is a Chinese social media platform for books, films, and music sharing instead of general content.
Here, we only list a few. If you are interesting, click here to read 2020's top 10 popular and mainstream Chinese social media platforms.
How Do Chinese Internet And Social Media Users Look Like In 2020?
According to the latest report by We Are Social & Hootsuite, by January of 2020, the number of social media users in China has reached 1.04 billion, which is approximately 27% of the global social media users (3.8 billion). Active social media users are 72% of the total population in China.
Meanwhile, in China, there are 1.61 billion mobile connections, however, the country's population is only 1.44 billion. Mobile penetration reaches 112%.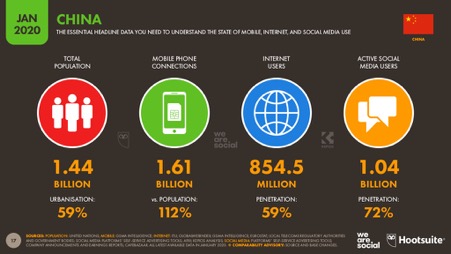 China social media took off around 2000, with the first microblogging platform, Weibo, which emerged in 2009; the first all-in-one platform, WeChat, started in 2011. We have also made a simple infographic to show the past 20 years of Internet development in China.
In the past 20 years, Chinese Internet users have switched to smart phones. By January of 2020, 62.4% of web traffic happened on mobile phones, following by laptops & desktops (36.5%) and tablets (1.1%). The growth of mobile phone use increases by 15% from 2018 to 2019. It seems that the Chinese Internet users will stay with their phones in the next few years.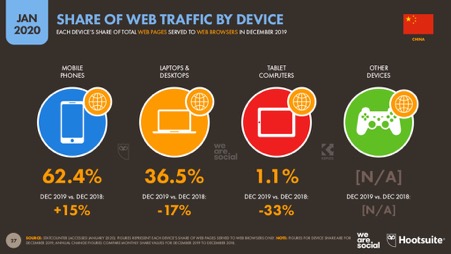 The daily time spent on the Internet in China has reached 5 hours 50 minutes, and the daily time spent on social media is 2 hours 12 minutes.
Chatting and using social media are the two major user behaviors in China. 45% of Internet users claim that they use social media for work as well. It is also impressive that, on average, 1 Chinese Internet user owns 9.3 social media accounts.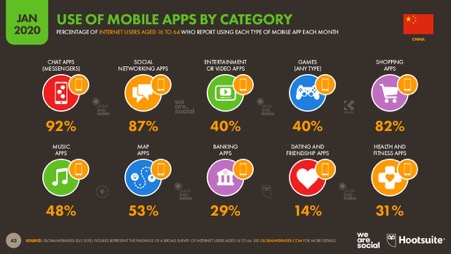 "Social Media + Mobile", seems to be a strong combine symptom in China, so what are the Chinese browsing and engaging with on social media every day?
The figures for mobile apps usage can give us some hints.
The top 3 mobile apps categories are for chatting (92%), social networking (87%), and shopping (82%).
The top 3 mobile app categories are for chatting (92%), social networking (87%), and shopping (82%) in China, now, we know what, where, and how to do our #chinabusiness . Says @LuibaoHK
Click To Tweet
Isn't it echoing the term we just mentioned, "Social Commerce"?
Why We Must Develop Our Social Media Strategy In China?
It is undeniable that China social media plays a big role in China's E-market and even traditional offline market. The shifting of advertising budget from traditional medias to digital medias (mainly social media) global wise is also happening in China.
The invested value on social media ads is lower than the top category, digital search ads. However, its growth rate reaches 20% and it is much higher than other categories in 2019.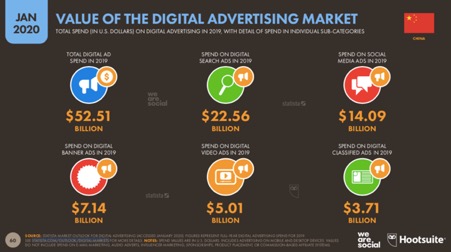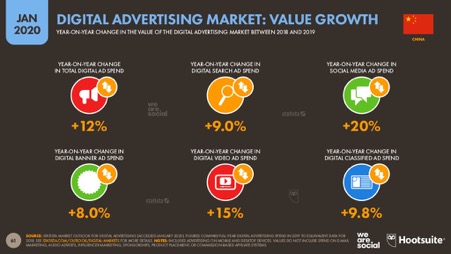 Social media is an important channel for people to discover and explore brands.
Creating headlines and maximize your earned content effect across different social media platforms are the key factors in almost every successful campaign in China.
Creating headlines, encouraging #ugc, and maximizing your #earnedcontent effect are the keys to a successful campaign in #china. Says @LuibaoHK
Click To Tweet
The development of social media is surely supported by the invisible hand of the Chinese government.
However, it is also a very efficient information portal by the Chinese government. To take the latest example of COVID-19 pandemic, the Chinese government leveraged the power of social media to update the number of the new cases daily, to clarify the fake news, to broadcast the correct methods about anti-virus knowledge, to spread positive energy by encouraging people to share heart-touching stories, and to raise fundings.
How To Use Social Media In China?
If you are planning to enter China market, or to achieve another milestone on your Chinese business, leveraging the advantage of it is one big task.
But how to use social media in China?
We believe in a basic rule of CCPC – Consumer, Content, Platform, and Commitment.
many different groups of consumers in china
Location, Age, Sex, Education Background, Professional Position, and Interests. We are witnessing more niche segments for different businesses. In 2020, the hottest keywords to describe the segmentation of Chinese consumers are Gen Z, "Sinking Market", and Silver-hair Generation.
Content Is Extremely Important
The key and the challenge is localization. Writing in the Chinese language is essential, but good content means writing with the right tones, terms, and even tagging the right culture or hot topics in real-time. "Hot Search Ranking" of Weibo is commonly used by Chinese marketers. Choosing the right and the best efficient content format is another factor. Currently, we see impressive results from short-video and Zhibo (live-streaming).
Hot Search Ranking in #weibo is a useful tool for #chinesemarketers. Says @LuibaoHK
Click To Tweet
Platform – There Is No Best Platform, But Only The Most Suitable One
Each Chinese social media platform has different "hero" features. Their strength and weakness vary from one another. With the understanding of the brand itself, and the definition of the ideal consumers and the content, the best suitable Chinese social media platform or platforms should be selected, even sometimes they might not rank in the top list.
Commitment Means "You Have A Long Way To Go"
Brand image won't be formed in one day. Meanwhile, the change in the Internet world forces us to optimize our strategy on an almost daily basis. Researching and studying the local culture is another part of the commitment. Indeed, a disaster that Dolce & Gabbana was handling in 2018 is not what we want. All of these require great commitment.
---
To summarize, we see a huge potential of China social media, in terms of doing business in China.
The majority of the Chinese population has moved to a digital lifestyle and more are sticking to mobile devices. Meanwhile it is playing a big role for branding and marketing, sometimes even direct sales.
As a foreign brand in China market, it seems to invest in social media in China is a must, but it would be better to carry out profound research and strategy before taking action.
---
Reference:
List of websites blocked in mainland China
TikTok will ban 3rd party links from October 2020