How to do digital marketing in China? You will say social media marketing is essential. Investing in the digital advertisement is considerable, and influencer marketing is a must. Oops, and also, you must have an e-shop on one of the main E-commerce platforms, eg. Tmall, JD, etc. Or at least, you owned a mini-shop powered by WeChat mini-program.
However, it seems more questions are popping up when everything is nearly ready.
What Chinese social media platform shall I use? – There are at least 10 popular ones, if not mentioning other smaller ones.
How to allocate my advertisement budget?
Which type of influencers shall I consider for the best combined result?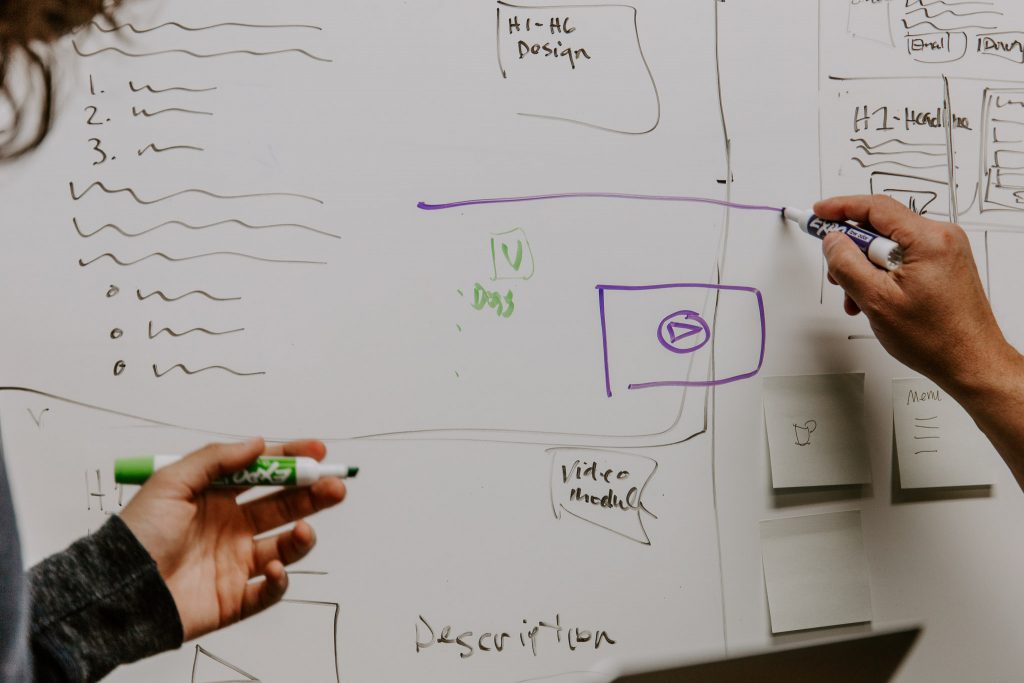 We have a simple blueprint of how to do digital marketing in China for you.
In short, there are 3 phases: Creating the desire, Reinforcing the desire, and Offering the chance to satisfy the desire
These 3 phases are highly matching to the new funnel models of E-commerce. In the earlier stage, awareness is raised through media publications and social media circulations. It drives consumers to further explore the brand and product by researching online or offline. Apart from other traditional factors (eg. WOM), online reviews of other consumers play a key role in decision-making nowadays. And all these lead to a purchase action.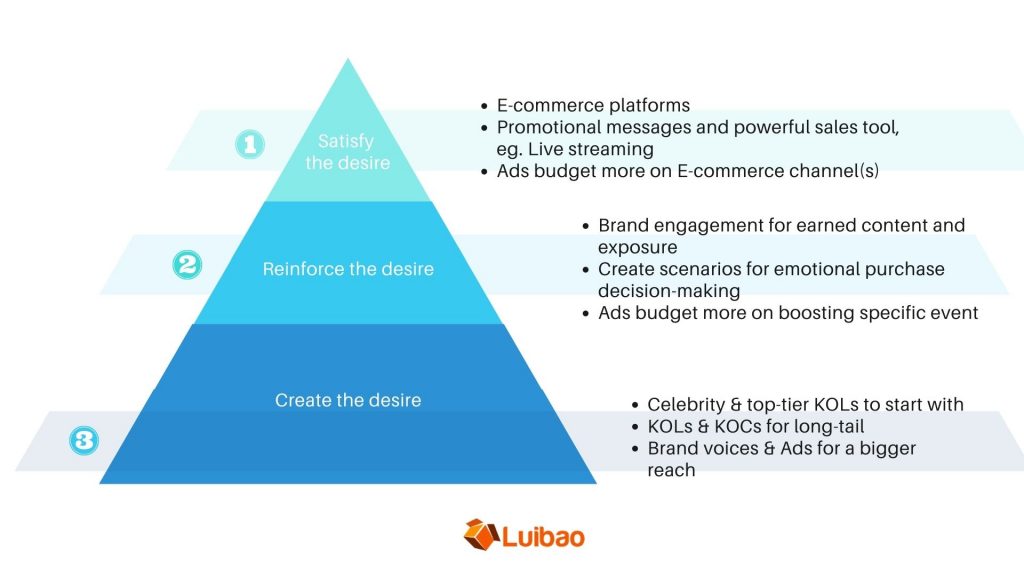 Create the desire
In China, desire-creation or stimulation involves both the use of the right platforms and the leverage of effective influencing channels.
Media publications and social media ads are very important to reach the targeting audience in the beginning.
However, many brands allocate a good portion of their budget to influencing channels. These channels are mainly celebrities, KOL, and KOC in China. Different from social media ads, this part of the investment aims for the aggregation of social effects. What does it mean? You are spending on encouraging more people to promote your brand and product (even for free), instead of converting them to buy immediately.
Each influencer channel offers a different reach and plays a different role.
For example, celebrities and top-tier KOLs can reach a large audience and "accidentally" create hot topics with hashtags over the online crowds in China.
The much smaller-influencing KOLs and KOCs help to generate and circulate more authentic content. They are an important source of your earned content and exposure in a long tail marketing "game".
The brand itself is an influencing channel as well, but we don't consider it as a channel that requires a budget (let's exclude the budget on your marketing team here). Because, very often, consumers turn to the brand for official and technical information.
Celebrity, #KOL , #KOC , and brands themselves are influencing channels in #china . They just play differently. Says @LuibaoHK
Click To Tweet
Reinforce the desire
Social media plays a critical role in digital marketing in China and its role is not only in reaching the audience and creating the desire but also in reinforcing it.
Normally there are two ways in this stage.
By social listening, capture the rising hot topic (eg. hashtags), and engage with your audience on social media platforms. The engagement is not only with the celebrities, KOLs, and KOCs who talked about you or your product but also with many more "unexpected" voices online. With the hashtags and taggings, the brand can interact with its customers and collect feedback efficiently. The interaction can benefit to a sales conversion in the next stage, or stimulate a second social-sharing directly.
The second way is to create "the perfect excuse" for a consumer to make his purchase decision. In the past, promotional offers are common. Nowadays, a smarter way is to design and communicate a perfect scenario for a specific group of targeted customers. The ultimate goal is to give that "must-buy" emotion after connecting the product to a person's life scenario. You can consider the basic ones like festivals (eg. mid-autumn festival, Valentine, Chinese New Year, Christmas, etc), trendy topics or news, mega shopping days (Alibaba double 11 Singles' Day, Black Friday, etc), and even seasons.
Create a "must-buy" scenario by studying your targeted customers' daily lifestyle, behavior, and emotional needs. Says @LuibaoHK
Click To Tweet
satisfy the desire
E-commerce is quite important in this stage, but of course, a few extra skills and tools can be applied for a better result. Live-streaming (Zhibo) in China is definitely one of the most powerful sales tools on E-commerce platforms.
WeChat and a few other social commerce also work. On WeChat, you can have your own mini-program for online selling. A couple of popular social commerce in China are RED (Xiaohongshu), Douyin (TikTok), Kuaishou. RED has its own E-commerce platform and supports cross-border E-commerce for foreign brands. The latter two have highly integrated with in-video sales links.
So, how does a well-planned digital marketing campaign look like in China? We have studied a few successful brand campaigns, and here we've got you a perfect example.
Case Study: Estee Lauder
Estee Lauder launched its new product, Micro Essence with Sakura ferment, with a well-planned digital marketing strategy earlier this spring.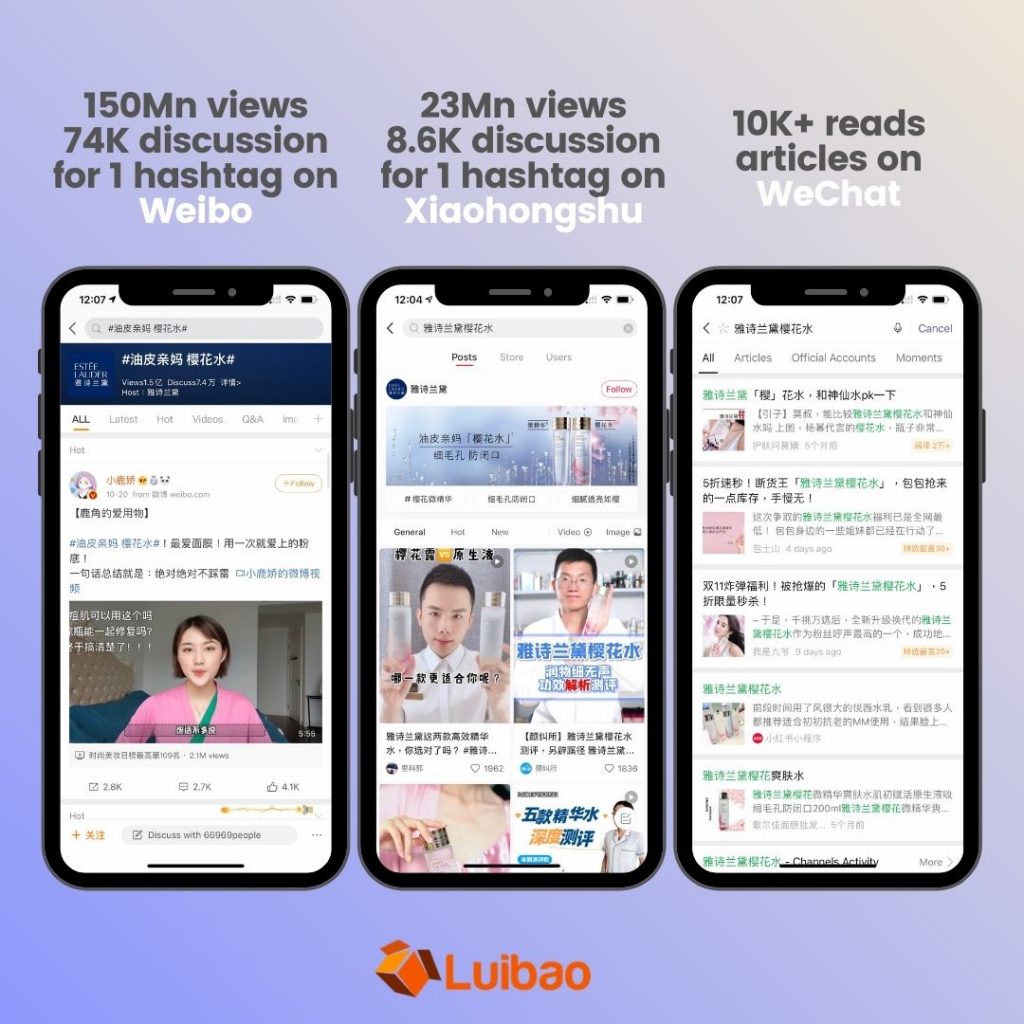 Stage 1
The collaborated Chinese celebrities in the campaign are Yang Mi, Li Xian, Guo Junchen, and Lareina Song. A combined 150Mn+ fan base was brought by the celebrities to Estee Launder.
Meanwhile, KOLs created product reviews across mainstream social media platforms like Weibo, RED (Xiaohongshu), Bilibili, and Zhihu. Many new hashtags around the product were created on Weibo. Some of them were hosted by Estee Lauder, but more were not. 1.27Bn reads and more than 4Mn discussion on Weibo were generated among 3 hashtags hosted by Estee Launder.
While the brand exposure and the awareness of the new product continued increasing. Estee Lauder interacted with celebrities by resharing their posts. Taking the brand ambassador, actress Yang Mi as an example, her posts related to the new product generated 620Mn exposure while Estee Lauder created another 250K exposure after sharing Yang's post.
The online discussion between the brand and the KOLs also led to the technical information about the product ingredient and benefits.
More consumers turn to KOCs. They created and shared the open-box and experience-sharing content over different social media platforms. This further pushed the overall awareness.
Estee Lauder had successfully increased its brand and new product exposure. The shared product information and review created consumers' desire for further exploration.
Stage 2
Estee Lauder carefully planted the "must-buy" desire by introducing 5 application scenarios to the targeted modern young female consumers.
Scenario 1: Workout – Stay moisture but also fresh while sweating
Scenario 2: Traveling (in summer) – Stay fresh in summer outdoor days
Scenario 3: Morning – Boosting morning energy for a long day
Scenario 4: Dating – Daily touch-up for an always-perfect image
Scenario 5: Night – Deep nourishing during the sleeping hours
Obviously, the majority of Estee Lauder's customers are a group of young females who live in modern cities, work hard while taking very good care of themselves by working out, skin caring, and traveling.
Meanwhile, the brand caught this year's 6.18 Shopping Festival by launching a limited edition of this product. On Weibo, the announcement of the limited edition was released around one month before the mega shopping day. This single post accumulated 100K+ shares, 95K+ likes, and 9K+ comments.
To further reinforce the (purchase) desire, the brand collaborated with the young celebrity while he was having high exposure over a popular entertainment TV show. The promoted hashtag was pushed to the top 3 on Weibo hot search list with 1.6Mn discussion.
Over the online conversation, lucky draws, interactive mini-games, and coupons are circulated to the consumers. Those are the solid tools to convert the sales in the last stage.
Stage 3
During the 6.18 Shopping Day promotion period, Estee Lauder collaborated with the top live-streaming influencer, Li Jiaqi, as well as did their own live-streaming session on Tmall.
As the report by Alibaba group, the sales records of the limited edition with a unit price of around $120 are 30K+ pieces in May and 6.7K+ pieces on 18th June. $14Mn sales were made in the first hour on 18th June.
The successful digital campaigns also brought high brand exposure and potential sales to other related products. On Alibaba platforms, Estee Lauder's sales revenue in May increased over 200% than May of 2019. Only the selected "Essence" related products contributed to a monthly sales revenue of $25Mn.
---
To summarize, digital marketing in China involves a well-planned resource allocation on different platforms and influencing channels. Similar to the funnel model, the high-influencing channels like celebrities and top-tier KOLs can boost the brand and product exposure in the shortest time. Meanwhile, interactive conversations and engagement is the key for the brand to further reach a larger audience and even achieve earned exposure with KOCs and normal consumers. The brand need to design and communicate the product application scenarios and technical information to the consumers carefully. E-commerce with powerful sales strategies and tools like limited editions and live-streaming can assist in the final conversion stage.