With the new figures in 2020, WeChat marketing strategy means how to engage with WeChat's 1.16 Billion monthly active users with its over 20 million official accounts.
In detail, involves content marketing, channel marketing, brand sponsorship, online and offline marketing campaigns, mini-programs, and many more.
Before we talk about WeChat marketing strategy, first make sure you have registered and verified a WeChat official account correctly.
Many people have misunderstandings about WeChat and the marketing strategy for this top Chinese social media platform?
Surely yes.
Let's see these top 6 common misunderstandings.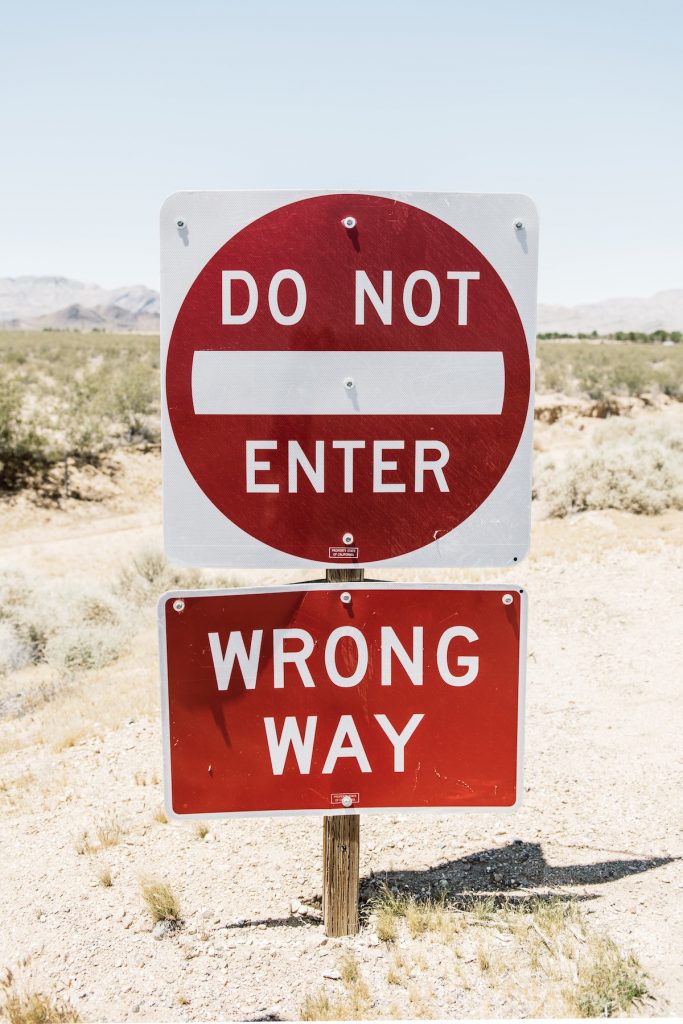 #1 WeChat marketing strategy starts from moving my website to the WeChat official account in Chinese
Get a translator, make my website a total offline Chinese version, register a WeChat official account, and control+C, control+V – That's the basis of the WeChat marketing strategy!
If you think in this way, you are in the wrong direction.
A website, for a company or a brand, contains general high-level information. The latest trend is, many websites include a Blog section for more industrial information and know-how. However, not all websites, or we shall say most companies' websites have the most boring content. Surely, it is not as active as their social media accounts.
WeChat becomes a top-ranking Chinese social media platform not because people like reading website-like content on it.
No matter the published content is for the account's followers (subscribers) or for a potential new audience who might follow your account after reading, the content must be up-to-date, telling the brand story or product information precisely, readable, entertaining, and sharable.
The goal of a WeChat marketing strategy is to give the WeChat official account character and story so that it becomes "an interesting person that you want to talk to".
Brand story and core value must be told repeatedly but in different ways.
Using the WeChat official account to share industry trends and know-how is another common WeChat marketing strategy. The value-added information related to your product or service is the glue.
Treat your #wechat account as an interesting person who talks to your clients honestly. Says @LuibaoHK
Click To Tweet
This is all about content marketing.
Though Content marketing is the key, a successful WeChat official account needs extra support from O2O (online to offline) campaigns, mini-programs, etc.
O2O campaigns perform well in terms of reaching a new audience and transfer them to your followers, or even to customers.
Mini-programs is an App inside an App (WeChat). Tailor-made programs allow more interactive tools like games and surveys. Also, many successful WeChat official accounts use mini-programs for customer service, membership management, booking system, and E-commerce.
Short Case Study: Durex
On International Literacy Day, Durex pushed one article with #internationalliteracyday on their WeChat official account.
In the article, Durex shared a few common misunderstandings about sexual wellbeing by simple Q&A content format. To read the full answers, users must swipe on their mobile touchscreens to read.
At the end of the article, it added a small banner to encourage the readers to leave their questions in the comments or send their doubts via direct message.
This article has 78.4 thousand reads in a week with 274 likes and 346 WOW (this function allows the article showing in Top Stories under the Discovery section). We cannot see how many shares it has.
The first comment pinned by Durex was another question by a reader.
She asked, "how to let her partner see this article without noticing". The lovely answer by Durex is, "Dear, just click WOW!"- an excellent practice of how to engage with your readers with China social media. This conversation has more than 250 likes.
What is Durex' WeChat marketing strategy here?
Create an educational article related to its industry and tag a timely event and topic – International Literacy Day
Rich media and mild-sensitive topics exactly match Durex's brand and marketing strategy – taking care of the emotional and sexual wellbeing of the people
Call-to-action in the end to encourage more engagement by the readers
Engaging with reader's feedback with a humorous and friendly tone, meanwhile encouraging the sharing action once more time
#2 WeChat marketing strategy means dispatching coupons and sales news
Price is always one of the most important elements when a company or brand is planning its go-to-China strategy.
However, the young generations (Gen Z) and the new middle-class in China weigh the quality and brand to showcase a person's personality over the price.
The new #chineseconsumers weigh the quality and #brandvalue to showcase a person's personality over the price. Says @LuibaoHK
Click To Tweet
Dispatching digital coupons or delivering sales news is only a short-term strategy.
Many successful cases show that interactive O2O campaigns with proper incentives work better. It helps the brand to reach a new audience, gather new followers, and achieve a higher user-engagement rate.
Coupons and discounts are often used on a WeChat official account for membership management and community care.
Short Case Study: A State-owned Pharmacy Brand in China
A state-owned pharmacy brand in China launched a 3-day campaign with a mini-program for social sharing and new account following.
A special algorithm was coded. When the WeChat user shares with his friends on WeChat, he can win or lose points according to his WeChat friend's reaction. The users achieving the most points will win the gifts.
The result of this 3-day campaign brings 60 thousand new followers to the company's WeChat official account.
Together with the short-term campaign, they also built a team of professional doctors and pharmacists who offer free consulting services through their WeChat official account.
When a follower sends his question via direct message on WeChat. The in-app mini-program automatically dispatches the messages to different professionals by analysing the keywords.
After the consulting is done, the follower can make a simple rating for the doctor or pharmacist. The ratings will be one of the criterias to evaluate the professionals' work performance.
This encourages professionals to give better service, which also increases the brand service level and converts more offline sales.
#3 Applying the strategy of running a blog to WeChat marketing strategy
Yes, the basic skills are very similar. SEO writing, story-telling, shorter sentences to read, and using rich media are all the keys.
However, a WeChat official account can have mini-programs, and even livestreaming function is under testing.
Many SEO strategists recommend a fairly long blog, right?
WeChat marketing strategy can be only infographics or even comics. Word count might not that important for WeChat.
Short Case Study: FamilyMart
FamilyMart published a post to promote its popular Toast Sandwich products in shops. The post is without any paragraph, but a long-format infographic with many GIF effects.
The infographic delivers product information precisely and sharply with banner-like headlines. Meanwhile the majority job is done by those eye-catching GIFs.
The article was published on 19th August. It has accumulated over 100 thousand reads and more than 250 likes and WOWs. The counts of article shares and likes on comments are excluded.
#4 WeChat marketing strategy equals the one for newsletter marketing
The article by a WeChat official account will be pushed to its account followers only (in the scenario of 100% organic). Sounds like my company's newsletter?
The answer is, Not.
It is not surprising that it integrates the features of newsletter marketing. However, newsletter marketing is more content-oriented. It can drive the traffic to your website or online shops, but the real-time engagement through email marketing is much weaker.
WeChat official account has 5 instant engaging features: Like, WOW, Share, Comment, and direct message.
WOW and Share are the heroes to expose your WeChat official account to more people organically.
Comment and direct message are the interesting features for the brand to engage with its customers and audience in a closer and more friendly way. Many collected customer comments are considered valuable assets for brands.
Moreover, there is potential aggregating engagement among the audience themselves. The account administrator can select and pin some interesting comment conversations as well.
#5 WeChat marketing strategy is all about marketing
We all know WeChat is the most powerful social media platform for marketing and branding in China.
However, not all companies have the resource and budget for WeChat (content) marketing. Also, not all companies' products or services fit well for "a marketing approach".
So, what do they do?
They "pass" their WeChat official accounts to the customer service team.
Short Case Study of WeChat marketing strategy: CCB (China Commercial Bank), SF Express, FamilyMart
The standard content of CCB is dominated by membership benefits and sales advertisements. However, under the menu tab "Fortune", it offers quick channels for debit card application, credit card application, investment index, and many other bank services. The glue of CCB's WeChat official account and its followers are the banking service.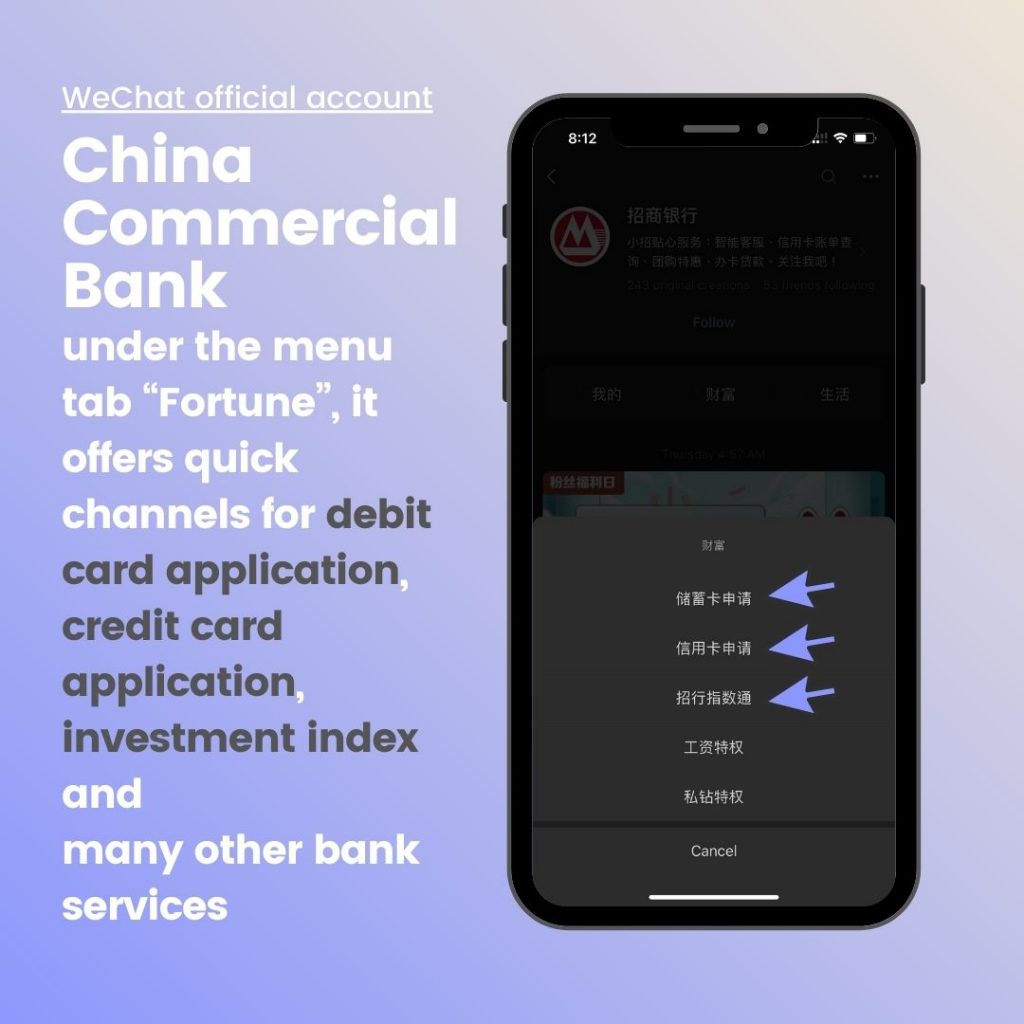 SF Express is the biggest logistics company in China. It's WeChat official account provides booking and tracking service. A mini-program is integrated so that the users can book all types of shipping services on their finger-points. Also, the account serves as an online customer service assistant. Again, convenient service becomes the feature of their account.
FamilyMart WeChat official account not only produces good content but also includes the function of membership management and a few simple automation features. On WeChat, the users can manage their membership settings, check membership points, membership cards, and coupons easily.
#6 The key to a good WeChat marketing strategy is WeChat Ads
WeChat, the same as many other Chinese social media platforms, offers advertising services.
Once being approved as an advertiser, the WeChat official account administrator will be able to run different Ads.
However, comparing to other social media (eg. Weibo, RED, TikTok), WeChat is very careful about the Ads-vs-user-experience dilemma.
An obvious example?
WeChat doesn't offer open-app cover-screen banner Ads.
Traffic on WeChat is often considered Private Traffic, which is the traffic generated among friends, families, colleagues, etc.
WOM (word-of-mouth) is the key to the success of WeChat marketing. Sharing in Moments and friend-to-friend in-chat sharing is still the mechanism of traffic on WeChat.
---
To summarize, WeChat is an all-in-one social media platform with a huge user base in China. It integrates many familiar functions like website, newsletter, social media, but more new ones those we are not familiar with. The basic social media marketing strategies can be applied to WeChat. However, we shall avoid less-effective strategies by observing those common misunderstandings. Meanwhile, WeChat offers tons of flexible features for brands to create more engaging content and even deliver services more efficiently.