What are the benefits of a WeChat overseas official account for a business? Is it mandatory to do WeChat verification? Is the WeChat verification service provided by Tencent?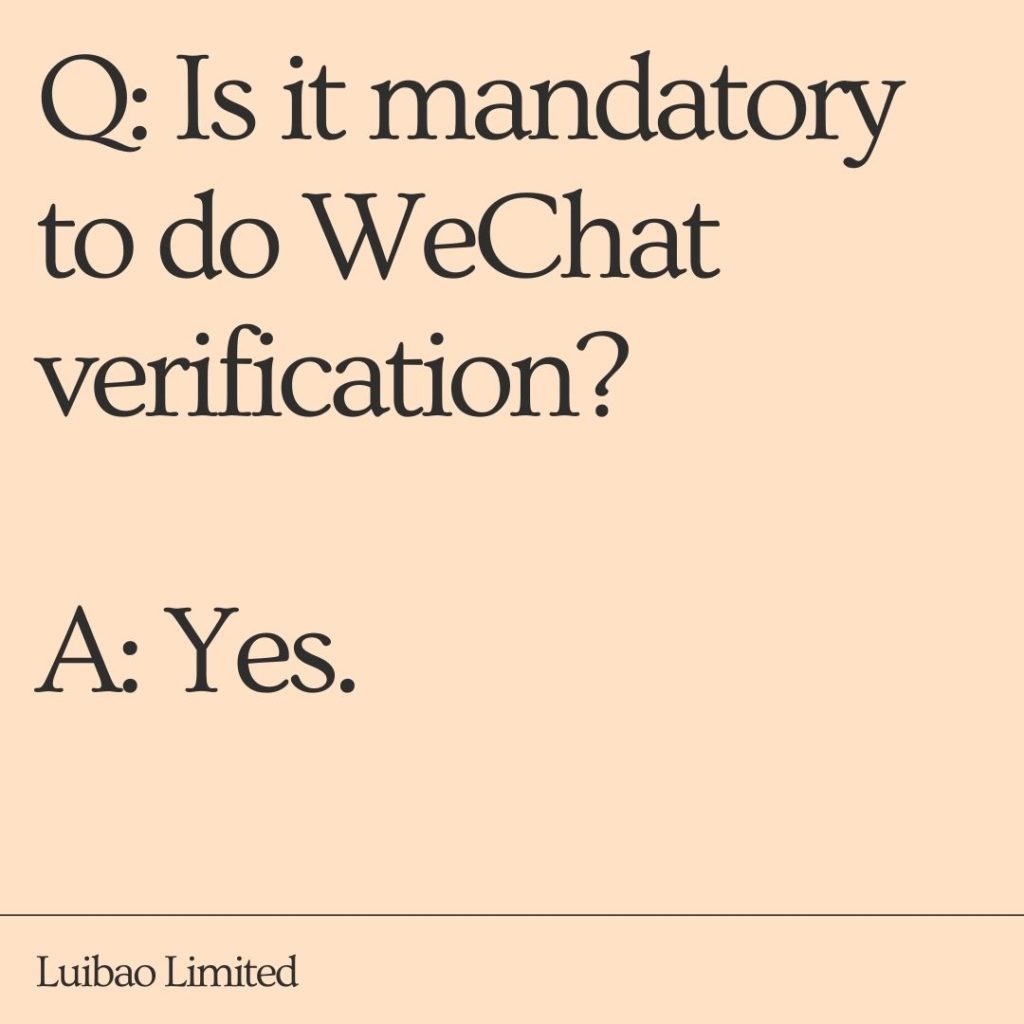 You have many questions about the WeChat verification service. Given that we are helping our clients register, verify, and manage their WeChat official account. We have made a Q&A and hope it can help to clear your mind.
Wechat is the one essential social platform for a China-related business. The official account function opens to overseas countries in 2018. More brands and companies are using it for their China business strategies.
Today, we go straight to the part of WeChat overseas official account verification. So, dear reader, you have a non-China-based business. And, you are managing the brand awareness or operating your business in China or from outside China.
---
If your question is about what is WeChat and its official accounts. Or, how does WeChat function to achieve different business goals?
Check our previous blog posts:
How To Register WeChat Official Account
How To Run A WeChat Official Account – What You Know Is All Wrong.
---
Is it mandatory to do WeChat verification?
Yes. WeChat overseas official account registration is free. However, to activate the account with all functions, you must complete the WeChat verification.
How much does the WeChat verification service cost?
USD$99 for a year.
Is the WeChat verification service provided by Tencent?
NO. There are official agency companies assigned by the WeChat system. Once you submit the application, Tencent will pass your case to one of the official agencies.
Is it that possible my WeChat verification failed?
Yes.
Can I get back the verification service charge if the verification is failed?
No. WeChat verification service is conducted by third-party companies. Therefore, the verification charge is not related to the result.
How to pay for the WeChat verification service?
You can choose WeChat Pay or credit card payment. Credit card payment supports Visa, Master, American Express, JCB, Discover, Diners Club, and China Union Pay.
How long does it take to get the verification result?
Normally, it requires 7 to 15 working days. However, as our experience, one week is the average processing time if you have submitted all documents.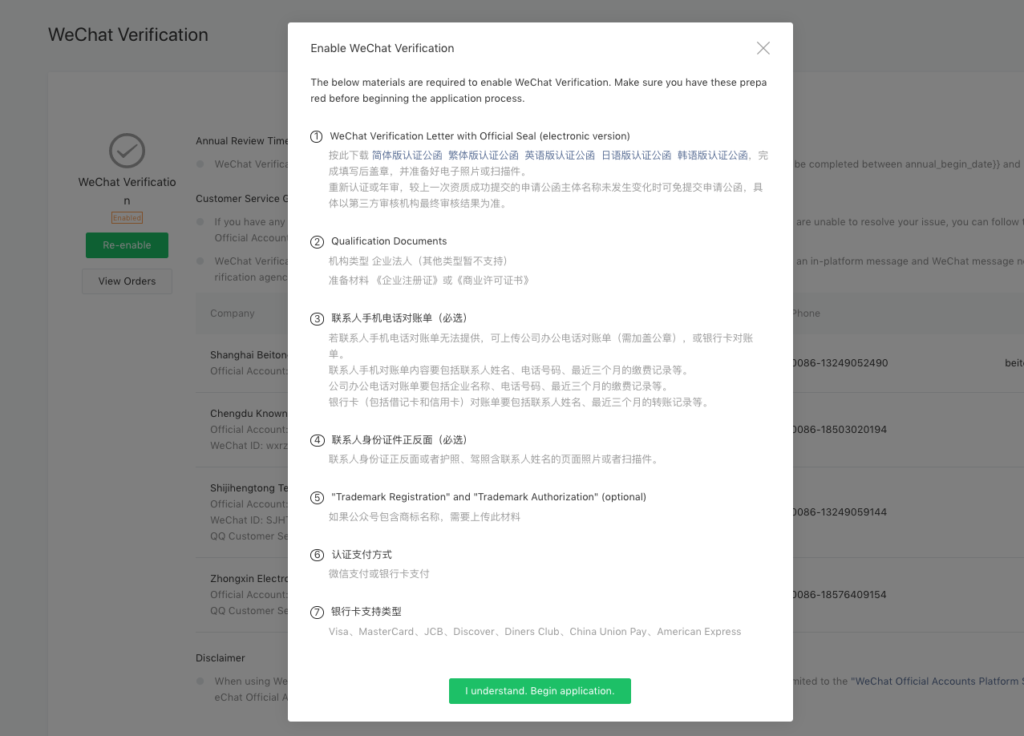 What documents I should prepare for the WeChat verification service?
A verification letter with the official company seal.
Company Registration Certificate or Business License. It can be a photo or scanned copy of the original. However, it is better to make a company seal on the scanned copy;
The latest 3 months' mobile phone bills of the contact person. If they are not available, you can prepare the latest 3 months' office telephone bills with the company seal or bank statements. The name of the contact person (or the company), phone number, or bank transaction records should be readable.
Color scanned copy of the contact person's ID card (or passport) on both sides;
Other supporting materials (If your account name involves a trademark, please provide the Trademark Registration Certificate or Trademark Authorization)
All information showed and filled in the submitted documents should be aligned and matched.
How to check my application progress?
After log-in the official account system, you can check the status from "Setting -> WeChat Verification".
Will I be contacted during the verification process?
It is possible. When there are more questions, the agent will contact you by email or phone. Therefore, make sure that you submit the correct contact information.
What if I missed some documents during application submission?
After log-in your official account, you can get the email contact from "WeChat Verification" and contact your agency accordingly.
What if I am asked to update the submitted documents or provide more documents?
As per WeChat regulation, you can only submit documents from the WeChat system. After the communication with the assigned agency, they will trigger a new submission for you in the system. Then, you can go to "WeChat Verification" tab and submit new documents.
If you have other questions about WeChat verification service, you can write to us or