Social commerce in China, how is it?
Wait, first, how does social commerce work in terms of helping your business? Before we dive into the topic of social commerce in China, let's refresh the definition of social commerce in general.
In short, social marrying commerce explains everything. It involves social media and online media, which support social interactions and user contribution. Both are expressed in multiple formats of content, from simple text to entertaining video. In the end, everyone benefits from this information-based ecosystem. It assists online buying and selling of products and services.
So, what does social commerce in China look like?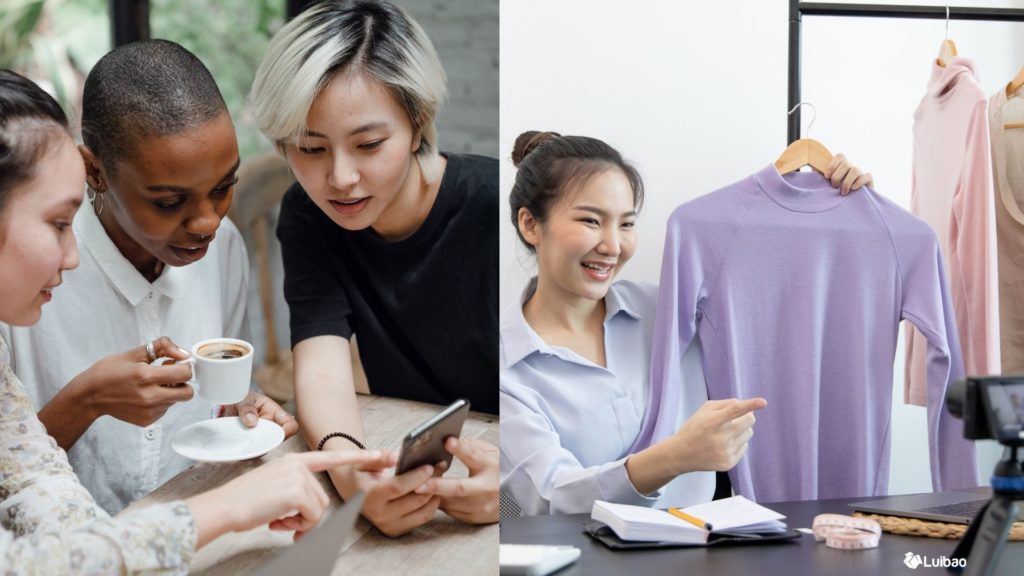 Social commerce in china
Social commerce in China shares exactly the same mechanism as everywhere in the world. However, over decades of development, social commerce in China is divided into 4 different models.
Group-buy model
The core of this model is the lower pricing achieved when more than one user places the order. To put it in a simple way, each product has two different pricing. One is the standard listing price for a single user. The other is a discounted price, but only will be triggered when more than one user places the order within the required time thread shield. Being driven by the discount, the user proactively shares the deal with others and invites others to join the deal.
Example: Pinduoduo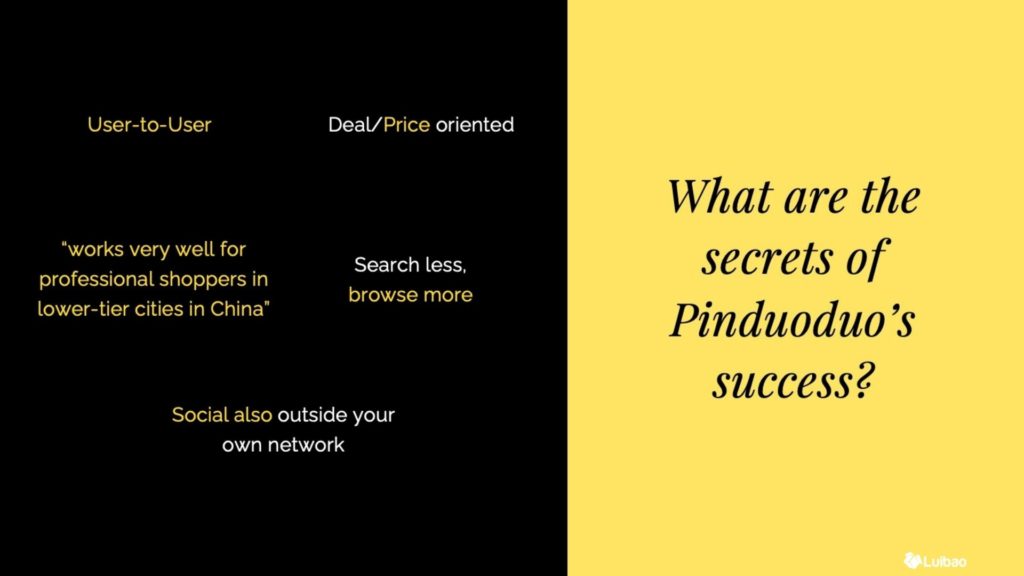 Membership model
This is comparatively new in China. The membership model is based on Supplier-to-Business-to-Consumer (S2B2C) mechanism. In this model, there is an important role played by the platform, or you can call it the marketplace, which provides full services including inventory, warehousing, logistics, and after-sales service. A consumer can be simply just a consumer today, but tomorrow, he/she can choose to be a small reseller by creating its own mini-shop and selling the selected products from the marketplace.
Example: Youzan
Community model
The community model's backbone is the location-based community. It focuses on the users and the audiences within a certain parameter. Many Chinese social commerce businesses leverage it to solve the last-mile problems.
Example: Fresh Hema, Tmall/Taobao Fresh, SF Fresh, etc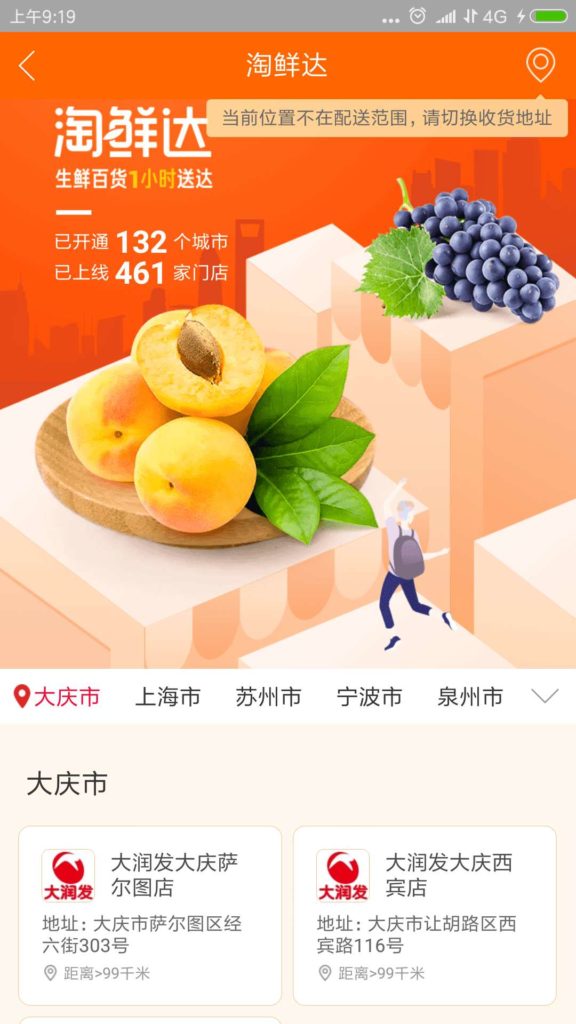 Content model
This is the most popular model among social commerce in China. Content, obviously, is the key. The content can be produced by the brands, but also created by the users or co-created by the influencers and the brands. The brands leverage different content to influence the purchase decision of the consumers. Furthermore, the brands adjust their existing strategies and even create new products by collecting and studying user-generated content.
Example: Douyin (Tiktok), Weibo, Xiaohongshu, WeChat, etc
Content-model Social commerce platforms in China
Many successful content-model social commerce platforms in China were started from being social media platforms. The best-known Chinese social media platforms are Weibo and WeChat, which are called "Twitter" and "Whatsapp" of China. Headlines, Xiaohongshu, and Zhihu follow up. In recent years, video-format platforms like Douyin (Tiktok), Kuaishou, and Bilibili are surely the hottest platforms. Apart from the platforms, we cannot overlook the development of influencer marketing (KOL and KOC) and Zhibo (Live streaming) in China. Without these two elements, social media platforms won't become social commerce platforms.
So, what are those successful social commerce platforms in China and what are the differences among them?
WeChat
With over 1 billion daily active users, WeChat surely is the most powerful social commerce platform right now in China. However, different from other platforms, WeChat creates a more intimate ecosystem among its users. WeChat users are much less exposed to commercial advertisements. Instead, the brands are able to build a deeper relationship with their clients on WeChat. It is more like a community where the brand is the core or even a 1-on-1 direct and private relationship between the brand and its client. Therefore, WeChat requires high-quality content and a service-oriented structure for private traffic.
On WeChat, brand official account, mini-program, video account (Channel), and WeChat private group are the tools to carry out different activities.
WeChat has more male users (60%) aged from 26 to 35 years old, and they are mainly from first-tier and second-tier cities in China. Vertical content in news, sports & entertainment, culture, science, and education are trendy and they have high user stickiness.
Weibo
Weibo has 225 million daily users, and it is the platform for the public. All "fermented" topics and trends start from Weibo, and therefore many public figures and celebrate take it as the principal platform.
On Weibo, the users tend to be younger. 90s and 00s users are more interested in celebrating news or other entertaining information. However, the 80s and 70s on Weibo are drawn to information about science and news.
Xiaohongshu
Xiaohongshu is famous for its content-seeding (Zhong Cao) feature. It is the platform for long-term brand building and influences the targeted audience for their next purchase decision.
On Xiaohongshu, more than 80% are young female users from first-tier and second-tier cities in China. They have good buying power and are willing to share their views upon a brand, a product, or an experience. Therefore, lifestyle-related brands invest heavily in this platform.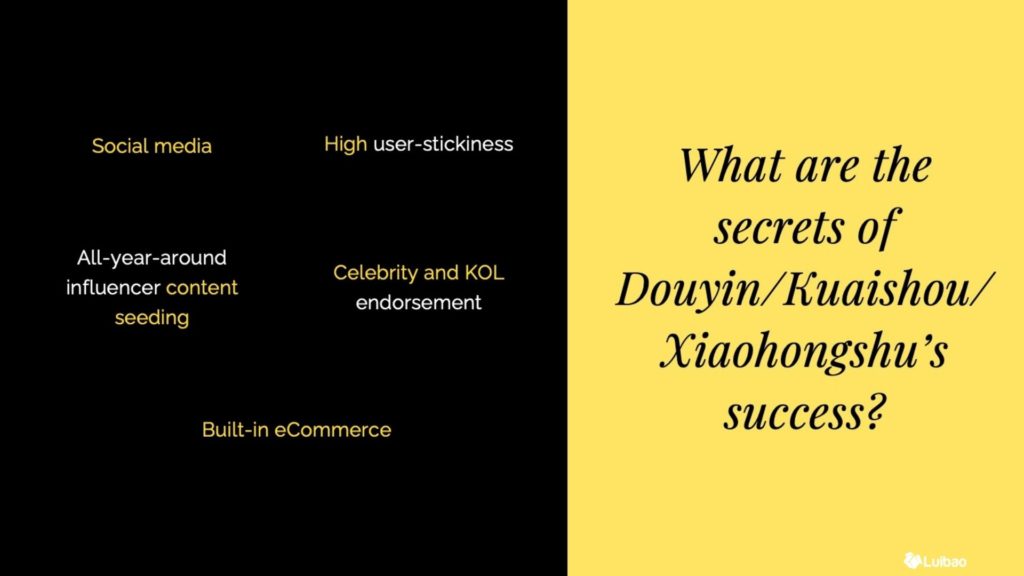 Douyin (Tiktok China)
The fastest growing social media platform is Douyin, which features short video content. Douyin also incorporates Zhibo (live streaming) function and in-App eCommerce. For Douyin users, what they watch is more authentic (down-to-earth) and pushed by the algorithm based on their instant user behavior. Furthermore, the in-App shopping function allows Douyin users to purchase immediately while watching a short video or live streaming.
Douyin has more female users who are mainly 80s and 90s, however, it shows strong growth of 95s users. The content is heavily based on trends and the level of entertainment.
Kuaishou
Kuaishou has a very similar mechanism to Douyin, however, the users are older than Douyin's and are more attracted to real-life content.
Bilibili
Bilibili is the platform for the Z generation in China. Creative and original cultural content in the mainstream. And, it is platform friendly for long videos.
Influencer marketing on social commerce platforms in China
Influencer marketing is always with social commerce. In China, KOL and KOC are the two terms for influencers. KOL, key opinion leader, means an influencer with his/her stable audience base and established influence among them. KOC, a key opinion consumer, has its keyword, "consumer". They are normal consumers but also content creators. The content created by them is normally in a review format. They don't have an audience base or established influence. However, together with many other KOCs, they are able to create a big voice towards a brand or a product, which is powerful enough to influence others.
Douyin is the platform with the biggest number of influencers in China (more than 50%). Following Douyin, Kuaishou, Weibo, Xiaohongshu, WeChat (official account), Bilibili, and WeChat (video channel) are the other major platforms.
However, the top influencers (KOLs) on Weibo have the biggest audience base. A top Weibo influencer can have more than 10 million followers. The top KOLs on the other platforms might have a follower base from 1 million to 5 million.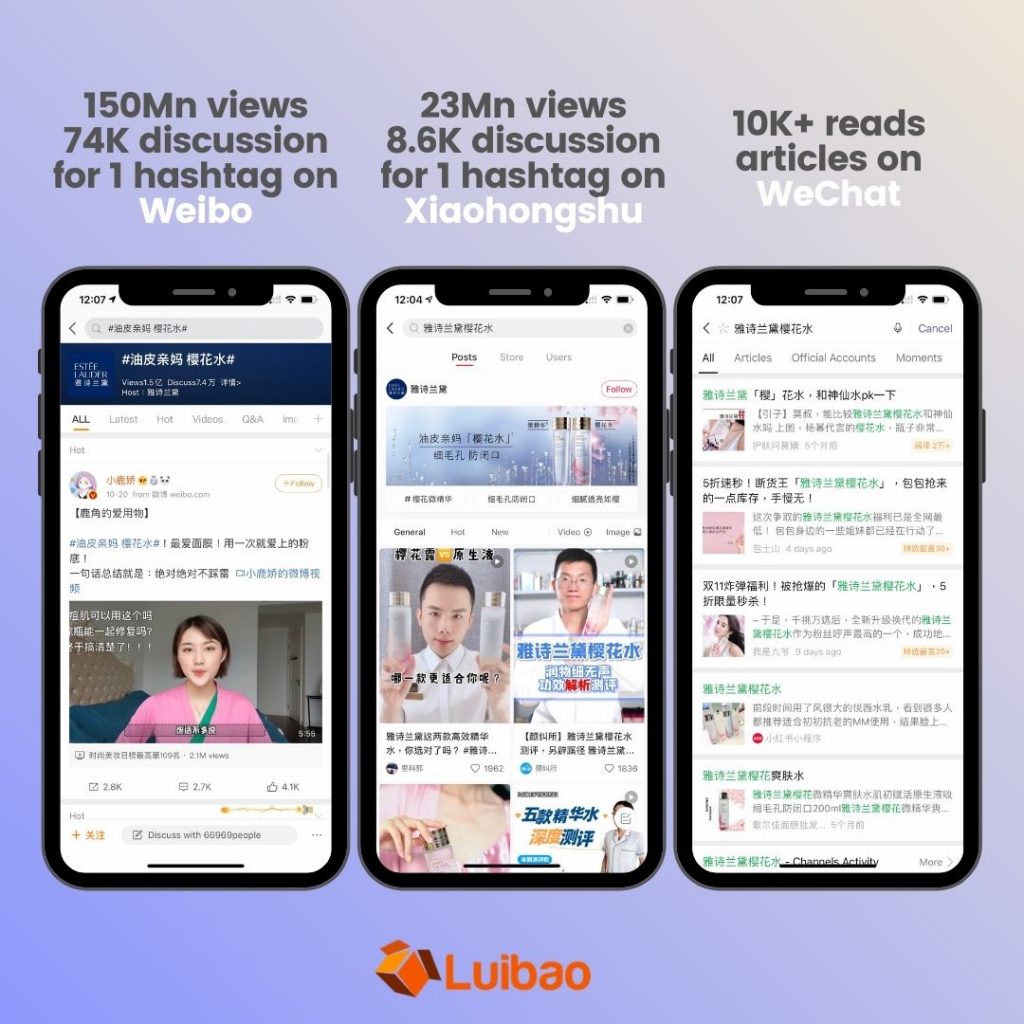 The creative content of the influencers on different platforms varies as well.
On Weibo, entertaining such as TV dramas and films are the top category, followed by celebrity news, beauty, and fashion. 
On WeChat, general news stays on the top, meanwhile life-related content is the mainstream on the WeChat channel (video channel).
Beauty and skincare is the most important category on Xiaohongshu, followed by education/knowledge and food/drink.
Douyin is heavily based on life-related content.
Kuaishou, interestingly, has more content purely created by young female KOLs.
Bilibili, as the base of Z generation, gaming ranks first.
Sales-driven social commerce platforms with live streaming
If the early stage of China's social commerce is content seeding and influencing consumers' purchase decisions, the current stage is direct sales-driven. Zhibo (live streaming) plays a critical role. Live streaming not only shows the real-time authenticity of a listed product but also entertaining.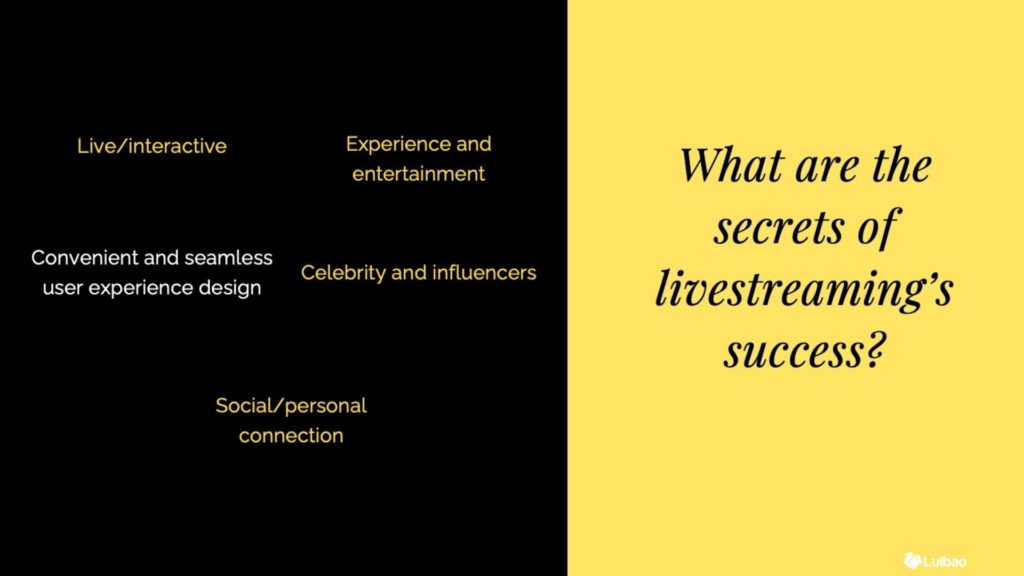 Sales-driven live streaming is heavily located on Douyin and Kuaishou, followed by the WeChat video channel. Basically, live streaming is with video-format social commerce. Xiaohongshu ranks fourth and is the only platform with both video and photo-text content.
Male and female fashion, FMCG, and food&drink are the three top product categories of live streaming across different social commerce platforms.
---
To summarize, social commerce in China isn't too different from what we have known outside China, however, they have developped different models and tools over years there. As an overseas brand, it seems that social media marketing and eCommerce in China are becoming a 2-in-1 thing. Which platform, who (influencer), and what tool are the three key elements to consider. It is not necessary to implement all three in one go. The key is to make a smart combination that truly serves your business goal in the foreseeable time period. 
---
Reference:
Wikipedia about social commerce
Socialone 2021 June social commerce China (Chinese)